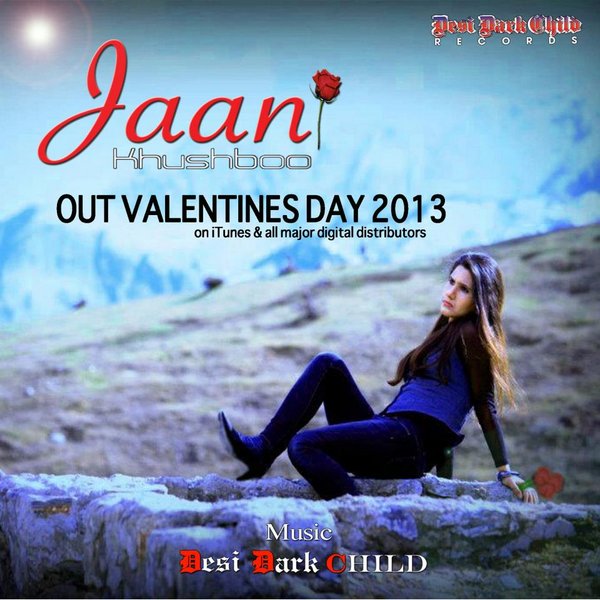 Desi Dark Child Latest Mp3 Song Jaan by Khushboo, Khushboo is a new singer  who has given so much to the Indian market and for the past year has been working on a few tracks with Desi Dark Child Records team that have consistently proven to have welcomed many known and unknown singers from around the world hoping to give them a better chance of experiencing other music market places where most singers can only dream of but unfortunately never get to reach.
Kushboo, has been one of many recognizable voices in Punjabi music of the past year has been trying to be versatile in her style by delivering a powerful voice with a modern touch giving credibility to what she has been following listening to from other legendary female singers that has made her become a unique singer. In 2013 with this release "JAAN", it will hopefully give her an extra boost opening new doors for the European music markets where we expect a lot more music lovers getting to hear her and becoming fans.
Kushboo is a great singer and has always believed in listening to good music that always has a effect on becoming good as a singer but most importantly one of her idols is The Great Late legendary "Noor Johan" who expressed her classical singing on another level globally that was never heard of back then setting a very high standard for female vocalist in past.
The single "JAAN" produced by Desi Dark Child gives it a different style and a touch of Desi Dark Child's musical experiences demonstrating how versatile he can be as a producer. "JAAN" the single will be releasing on Valentine's Day 14th Feb on iTunes worldwide and on all other major digital music distributors.
Cloud Tags: Desi Dark Child Latest Mp3 Song Download, Desi Dark Child Latest Mp3 Song, Desi Dark Child Latest Mp3 Song ft Khushboo, Desi Dark Child Jaan ft Khushboo Latest Mp3 Song 2013
RELATED: