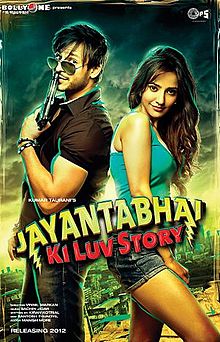 Jayantabhai Ki Luv Story is an upcoming Bollywood crime romance film of 2013 starring Vivek Oberoi opposite Neha Sharma in lead roles. Film is directed by Vinnil Markan, and produced by Kumar Taurani under Tips Music Films.
The theatrical trailer unveiled on 11th January 2013, whilst the film is set to release on 15th February 2013, in celebration of Valentine's Day. It is a complete package romance caper about how people unknowingly fall in love with people they least expect to.
The Casting of the film is as follows:
Vivek Oberoi as Abhimaniyu (Jayanta Bhai)
Neha Sharma as Simran (Bhadotri)
Nassar as Don
Atif Aslam as Himself In The Song "Dil Na Jaane Kyun" (Special Appearance)
Music of the film is composed by Sachin-Jigar, this movie has one of the huge hits in online charts like Aa Bhi Jaa Mere Mehermaan by Atif Aslam. Atif Aslam has sung 3 songs in this film. Tracklist of the film is as follows:
Aa Bhi Jaa Mere Mehermaan
Thoda Thoda
Dil Na Jaane Kyun
Hai Na
We Encourage you to Buy original music and support the artists.
Official Trailer of the Movie is Posted Below:
Cloud Tags: jayantabhai ki luv story mp3 songs downlaod 2013, atif aslam latest mp3 songs download, atif aslam mp3 songs download 2013