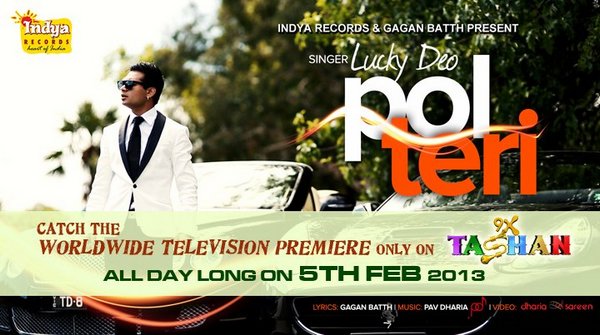 Lucky Deo Pol Teri ft. Pav Dharia is latest track of 2013, music of this track is composed by Pav Dharia and lyrics are penned by Gagan Batth and the music label is Indya Records.
This song had it's World Television Premiere on February 5th, 2013 – All Day Long. The Official Video of the song is posted below you must check this out.
This Video was posted on February 1st,2013 on Youtube and till yet it has more than 1,31,000 views.
SONG – POL TERI
SINGER – LUCKY DEO
LYRICS – GAGAN BATH
MUSIC & FEATURE VOCALS – PAV DHARIA
LEADS – LUCKY DEO AND RUBY LOUISE
MAKE-UP BY – EMILY LEUNGPEW
ASSISTANT DIRECTOR – ARUN SAREEN
SPECIAL THANKS – RAJINDER BAWA, MITHA SUKHDEEP, SARMUHABAT SINGH, GURJANT SANGHA
LABEL – INDYA RECORDS
Cloud tags: Lucky Deo Pol Teri Mp3 Song Download, Pav Dharia Latest Mp3 Songs Download, Latest punjabi Mp3 Songs Download, lucky deo pol teri mp3 song, lucky deo pol teri latest track.
RELATED: